Apostle Domingo Diagbel retired
On Monday, 15th of May 2017
After over three decades of serving as an Apostle, Domingo Diagbel was granted well deserved retirement yesterday at Tilling Central Church, Negros Occidental. He was a pioneer, from nothing to the membership-richest District in the Philippines. A remarkable career of sacrifice and hard work. Yet he always remained the same, humble, highly respected and loved servant of God. Many set backs and personal tragedy made him only stronger in faith and his loyalty never was in doubt.
The Chief Apostle found the right words in his acknowledgement for the work of the Apostle:
Serving 36 years of which 31 as an Apostle and thus one of the most experienced Apostle worldwide. I humbly stand in front of you aware you served longer than me and you could tell me many things. You have been a true servant of God, one elected and called to work and you did work a lot. You were aware that you are a servant and Jesus Christ is the Master. Jesus was number one and that is why God could bless your work. Love for God and love for His children made you a true man of love and that helped you to remain faithful in all circumstances. You were a wonderful teacher of God's people not by showing what you know but sharing your knowledge that your brothers and sisters knew as much as you knew; because you loved them. All 4 Chief Apostles you supported, also 4 District Apostles and all Apostles in this country. I thank you on behalf of the whole congregation. God's blessing with you in a special manner will bring you also into the future
As successor for Ap. Diagbel the DE J. Beliot was ordained and sent as Apostle to assume pastoral responsibility for the thousands of members in Negros Occidental and Ilo Ilo.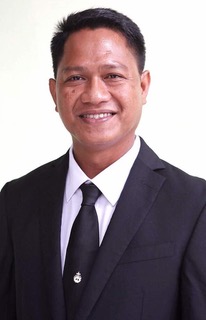 The divine service was based on Acts 1:13+14:
…one accord, in prayer and supplication, in the upper room…
Climb up to the upper room, above the worldly to pray in oneness. More of the content of the sermon will follow in publications of the New Apostolic Church.