Rector appointed for Makati congregation
On Thursday, 31st of August 2017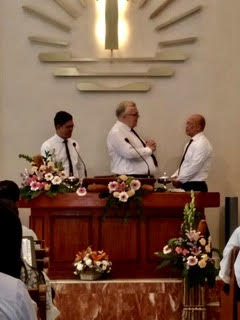 After many year of multitasking the District Elder Loloy Depaz was finally relieved from congregational rectorship in Makati in order to concentrate on his responsibility as District Rector for Luzon Central.
On Sunday 27th August Pr. Roberto Silvestre was appointed as Rector for Makati Congregation. This is a congregation which always must be the example of standard to all congregations "the District Apostle elaborated. Rectors in the New Apostolic Church are appointed. It is a commission to organize a congregation and to make sure that all souls can benefit from the services in soul care, religious instructions etc.
Rectorship is entrusted to Brothers ordained with a spiritual ministry who have special skills to assume leadership functions.